The old saying goes, what happens in Vegas stays in Vegas. Well much like our cultural norms, I defied that.
How We Met
Ashante (Foxy), Justice, Kaya (twin) and I were due for another trip and turn up. This time it was a $45 trip to Las Vegas, Nevada. They planned to stay for an entire week, but I had a full-time career to return to and could only stay for the weekend. I needed to make the most of my time spent.
I knew that every time we cliqued up, shit got wild and hectic, so I decided to create an agenda. Outside of food, I signed us up with Hornak for many VIP club experiences.
We missed all of them.
For those of you that know me and my issues with timeliness, well the clique is me x4. I still needed to make the most of my time, so I lied about the check-in time for the last club adventure.
We made it on time for Drai's nightclub.
In line, drunk AF, we rehearsed our names for the night and decided on a designated phony number to give out. It took us three rounds to settle on fictitious names and recite them. Mine was Essence, of course.
Inside the nightclub we did a walk through.
It seemed pretty chill, almost too chill. The club's vibe was below my expectations. Regardless of what was happening around us, I sought more. It was my first time in Vegas and I thought it was going to be big lit 25/8. Confused, I treated Drai's like any other club and walked to the front somewhere near the dance floor.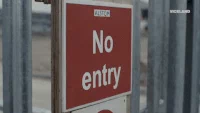 "Why can't we be on the dancefloor, what kind of nonsense?" I asked aloud.
"Nelly is set to perform soon." A club worker responded.
I didn't see him at first, but gahdamn he scared me.
"Oh word? Nelly who? Furtado? If she's performing we've got to go. This is not the vibe I was looking for."
"No. No. HA! No. Nelly. Nelly like, if ya wanna take a ride with me Nelly." he said doing a lil jig. I moved with him.
Then I turned to my friends.
"NELLY IS PERFORMING!! We need to find a spot to see 'em." Justice was the only person who matched my enthusiasm for this artist.
The lights went down, and we backed up following Ashante.
A man dragged her by the waist into VIP and we followed suit.
The beat dropped.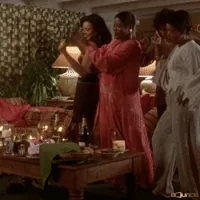 Men in the section reached for each of our waists. I felt a hand on mine and looked back.
"Are you single?" I asked pointing to the other women in the section.
"Yes." he replied. So I got back into my vibe and danced on him.
My twin and A'Tae danced on some randos too. Sipping on whatever, we had a good time.
At the beginning of the next song, a girl approached me and whispered, "It's my best friend's birthday, this is her section and you're dancing with her boyfriend."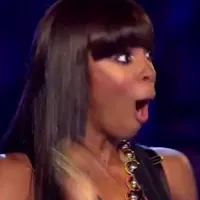 Flabbergasted.
I donkey kicked his ass. I let the clique know what's up and we climbed the seat to exit her section. The girlfriend gave me a head nod and we wished her a happy birthday.
A'tae, twin, and Justice laughed. "We could've turned up with them instead. Should've kicked them niggas out."
"Right, like I wish my nigga would be dancing in MY section with another bitch."
"Niggas ain't shit."
"Oh well, free drinks." Still lit we walked and danced our way through another walk through. I led them to the top of Drai's because I wanted to see Nelly.
Then that rolling beat came in and I couldn't control my inner ratchet self… I was mobbin' through the beach, yeah the city by the sea Mama tried to keep me home, but I love the fuckin' streets
They stood near me and hyped me up, although they hated the song. (Real Friends)
Mid jig, I was stopped by a bouncer.
"Excuse me ladies, can y'all come this way?" The bouncer pointed to some man sitting behind a velvet rope.
"My mama said don't talk to strangers sir." He introduced himself to me as he escorted us toward the rope.
There were three people in this section. The man that invited us, another man and a woman. I turned to A'Tae,
"What do they want with us?"
"I'm not going." She said.
"It's Vegas," I responded, "C'mon! There's more liquor"
I heard Nelly's voice on the mic and couldn't see, so my happy ass walked right into the VIP with the clique in toe. We introduced ourselves and the man poured up. He spoke with A'Tae while Justice and I drank, twerked and turned up to Nelly's performance.
At some point the man told us it was his birthday. Te'kaila was out at that time and if you don't know what that means, you won't ever know. I recorded the turn up from his phone.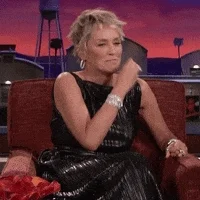 Nelly's performance ended, the bottles were empty and the three of them were making moves to leave. We thanked them and bid the others well wishes on their engagement and trip. One foot out of the velvet rope and my twin disappeared.
Regular music was being played and I figured she was on her way to the dance floor. Instead, I looked up and she was flying above me. Some rando lifted her up into his section. Other members in their group helped each of us up too. Shots were in our hands before names were exchanged.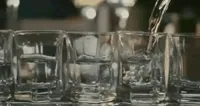 Names were never exchanged. We didn't even need to rehearse honestly.
I took another shot.
"Hey you!"
I looked around.
"I'm talking to you!" Some rando was down below yelling up at me at the top of his lungs.
"Haaahn?" I asked. Too drunk to function. My hearing is the first to go when I am under the influence. If you're not the bass of a song, might as well beat it.
"Come down here." I imagined him say.
"I CAN'T HEAR," I yelled as I sat down on the ledge, "I'M LEGALLY DEAF WHEN I'M DRUNK. P.O.P. HOL IT DOWN!"
"I'm not playing with you." I imagined him say as he lifted me down to the floor. I locked eyes with the bouncer. He gave me a nod. I hoped he was looking out for me.
This guy and I had a conversation. Then he lifted me back up into the section and stepped back for a muscle flex.
The clique and I danced, drank and left their section for the dance floor shortly thereafter. Hoursssssss went by.
At 4:00am the club cleared out and we walked two blocks to a designated pick up area for our Lyft. The wind was so strong I thought I heard someone calling out, "Essence."
"Someone is calling you, Essence." Justice said. We all turned around and it was him.
The man ran across the street. "I've been calling your name for a block." I imagined him say.
"I can't really hear when I'm drunk."
A conversation at that moment would've been useless. So we exchanged numbers instead.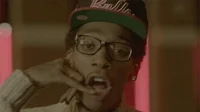 Back at the resort I goofed around with the baes until we were too tired to look at each other any longer. At the crack of dawn I woke up to messages from the man…
Our First Date
March 5, 2017 4:00pm
"Wyd?"
"Napping. What you doing?" I replied.
"Getting some things together. It's my bday so it's a supreme situation all day."
"Happy Birthday! You're on the move, meanwhile I'm playing mom trying to get the other two up. Foxy in here singing and cooking like somebody auntie."
"I feel you, well hit me up when y'all get moving."
"Bet, we have massage appointments this afternoon, so we need to get moving soon."
Twenty minutes went by and then another hour to get ready and walk out. I'm telling y'all, it is me x3 when I travel with the clique.
"So where is your appointment at? I can meet you there?"
"It's at Essence Spa but that plan is scrapped because their electricity is out."
"Your fake name too ha. Well, Damn. So what now? We going to the David Copperfield show you want to come?" he asked.
"Shh. It's a real one, in a way. What time? Yes. How much are tickets?"
"I can get yours but I dunno if your friends want to come or not."
"What time? It's most likely going to be my twin and I."
9 o'clock. $132. I got yours and it's a table for four so your friend would be sat somewhere nearby if she came."
If she came? Of course she's coming. I'm not getting kidnapped out here, oh no.
"Okay, that's perfect!"
Since he was a stranger, and I have a fear of being kidnapped, I asked my twin to go and we found the only empty seat in the theater. The seat was directly in front of his table.
Too perfect.
I paid for half her ticket since she was willing to accompany and didn't really want to go. Plus, my ticket was paid for. What are twins for?
"We literally found the only empty seat in the theater. I will see you later. We also decided to stay in this dark as place, they're lighting candles and the electricity may come back in during our sessions. I'll text you after."
"Okay cool. Just hit me up. We can meet at my place before?"
"Possibly, we have dinner plans. Where are you located?"
"The cosmopolitan right now. 66th floor."
"Okay. I'll check back in with you later."
"Bet."
We ended up meeting at will call.
"Kaya, Een. Een, Kaya."
"Hi nice to see you again." He said giving her a half hug. "Did you enjoy yourself last night?"
"I did. Those massages today were definitely needed." She responded.
"Are y'all excited to see this?"
"Oh for sure. I've never been to a magic show." I replied.
"Next in line." The will call personnel called out to us. We moved forward. "Name?"
"Alexis Jackson."
Een chuckled.
"ID?" the personnel asked with her hand out.
I handed my ID over to her. "What's funny Een?"
"Nothing Ms. Jackson." He smiled.
"Thank you. Here's your ticket." The personnel handed the ticket to my twin.
"Tell me what's funny. I want to laugh too."
"Okay. I can show you better than I can tell you," he said as he removed his ID from his wallet, "My last name is Jackson too."
"No way. Let me see that." I reached for his ID. Sure enough, we shared the same last name.
"You know…"
"What, Mr. Jackson?" I teased.
"Nothing." He said as he led us into the theater.
Inside the theater I was reintroduced to the engaged couple. I slid into to the booth and sat next to the woman with Mr. Jackson on my right. My twin sat directly in front of me and the lights went low.
The show began, and it was comedic and magical. At some point it was interactive, and I was in awe. It was in that moment that I noticed Een had his arm around my neck. It was that comfortable. David Copperfield came out and did everything that I was not expecting. There was an alien. His magic show was amazing and if you haven't been to see him in his theater, you are missing out.
When the show ended I wished him a happy birthday, but my twin and I were too tired to hang out any later. We made tentative plans to link up the next day. Completely satisfied with a one-time date in Vegas, I expected them to fall through because he had an afternoon flight.
My twin and I went back to the timeshare and they all went on their way. We continued to text throughout the night until I fell asleep.
"Don't forget to let me know when you wake!"
"I'm definitely not going to forget about yo sexy ass."
Sure Vegas is sin city but with that temptation and my addiction, my willpower was winning. Winning big.
"Hey wyd."
"Lexxxxx."
I woke up to a smiling creeper Foxy. "Are you making breakfast?" I asked.
"Ha no. We ran out of breakfast food. Dude I'm salty. I'm hungry."
"I'm sure you'll find something."
"There's nothing." She whined. Kaya pulled the covers over her head.
"Shhhh. Let's not wake the bear." I giggled. I looked down at my phone and cackled.
"What?"
"I got the booty call message. LOOK!"
"Ahhhhh. He thought!" we twerked in the kitchen.
"Look! We still have shit." I swung the cabinet open wider and held up the liquor.
"Dude. I know you are not."
"It's Vegas. The V in Vegas stands for Vacation, which translates to 'let's get wasted'. I'm making a pitcher of sex on the beach."
"Just waking up." I responded to Een as I grabbed more ingredients for breakfast.
"So how did your date go last night?" Justice spoke from across the room.
"It went well, surprisingly. I was mad comfortable," I said, "But peep, that magic show was dope as fuck. I wish I could've taken photos."
"How was he? Was there a vibe?" Foxy asked.
"Yes there was a vibe. What exactly that is, idk. Think he wants the cat. He was actually the perfect gentleman though. It was chill. Note, I didn't get kidnapped." My phone buzzed.
"Lol it be like that. I wanted to see you again before I left."
I started the blender. "Yea, I totally don't remember falling asleep either. And me too."
"Ima send a Lyft to bring you over here. If you're down…."
I poured my drink into a glass and bounced over to Justice, jumping on her. "Am I down sis? AM I DOWN?" I laughed showing her the message.
"NOPE!"
"Nah. Can't eem do it bra." Foxy chimed in.
I woke the sleeping bear from her half slumber. "What do you think, should I entertain this?"
She sucked her teeth at me. "Lex. You already know you're not going."
I laughed. "But you know, maaaaybe it could just be a link up. We could hang out by the pool. Have a pool side chat. Couple drinks. Maybe some fruit."
We cackled and I heard the others laughing too. "You know damn well if you go over there, you're fucking."
"True. But I'm not fucking. Hashtag, celibate." "What are you trying to do?" I finally responded.
"Well we got 'til 11… just chill, watch a movie, I can give a decent massage. See where it goes from there… Idk if you're drinking this early or not but that's always available lol food etc."
"Hmmm. This sounds like some fun kind of trouble. I'm trying to behave though.."
"There's not such thing as behaving in Vegas. This is sin city. Besides, I dunno when I'll see you again and we should make the most of each moment."
"All facts lol"
"So send me your address and let me know when you're ready?"
"I want to see you too. Outside. Daylight. Where the good women roam."
"Lol bet. What would you like to do beautiful? My flight leaves at 1 and I have to check out at 11."
"Brunch or gamble?"
"I don't have an appetite, but we can definitely do something slow. You play poker?"
"Na, I only know how to play blackjack."
"Okay. Your casino? Mine? I'm about to get dressed."
"Mine. Southpoint. You can bring your bags here and leave straight to the airport. 9940 S Las Vegas Blvd."
"I'm on the way."
"Bet."
"Alright y'all he is on the way and we're going to the casino over yonder."
"He's coming in here?" they asked in unison.
I looked around. "Uhm. No. Ima just set his bag in here but no."
"What will we do today?"
"Idk. It's my last day, idk if y'all want to turn up or explore. Y'all have the remainder of the week to do whatever. Just let me know. How's the sex on the beach Foxy?"
"It's good good. Now that y'all bitches up I'm going to play music." When the beat dropped we had a twerk session.
He arrived, I took his bag in and forced him to drink a sex on the beach with me. We walked over to the nearest Casino for more drinks and gambling. There we discussed our lives, careers, goals, family and weird quirks. Time dwindled, and he had to get going.
Back at the timeshare I brought a chair into the foyer. I sat on his lap, cowgirl. We waited for his Lyft to arrive and to kill time we talked some more. I must've been staring hard because he asked,
"What are you looking at?"
To which I responded, "Those juicy ass lips."
He looked down at his phone, two minutes until arrival.
We kissed until the Lyft was marked as here.
"You know I can cancel this Lyft and reschedule this flight."
"Lol no. Not a good idea. You should get back."
"Damn." We kissed again.
I gave him his bag and said, "Goodbye."
He said, "I'll see you soon."
I laughed.
"Thank you for being the perfect gentleman. Have a safe flight!"
"You're welcome. It got tough at the end there but no problem lol it was very nice meeting you. Hit me up when you're on the way home."
"I agree and okay, will do."